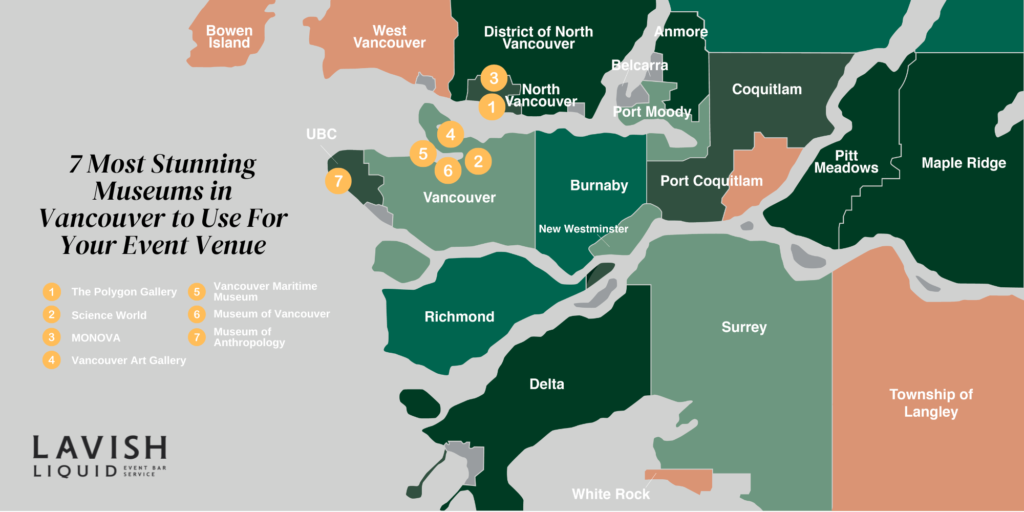 Whether you're planning an autumn wedding, winter birthday bash, or corporate holiday party, there are a number of stunning museum venues that host private events in Vancouver. While having an empty space can act as a blank canvas for your vision, facilitating your function in a museum will not only provide a beautiful backdrop for your function but also offer something for guests to do and talk about.
At Lavish Liquid, we are very fortunate to be the exclusive and/or preferred partner at a number of museum venues in the city. Below are our top 7 museum locations for hosting your next event:
7. Museum of Anthropology
The Museum of Anthropology, located at the University of British Columbia, is a place of world arts and cultures with a special emphasis on the First Nations peoples and other cultural communities of British Columbia, Canada. As one of Canada's foremost cultural attractions, the venue offers exclusive enjoyment of their exhibitions and breathtaking ocean views.
With seven different venues to choose from (including the Great Hall, Lobby, Courtyard Room, Outdoor Courtyard, Haida House, Museum Grounds & Shell Beach, and Museum Grounds Hilltop) there is a plethora of options to suit your event needs.

Corporate Information Package
Wedding Information Package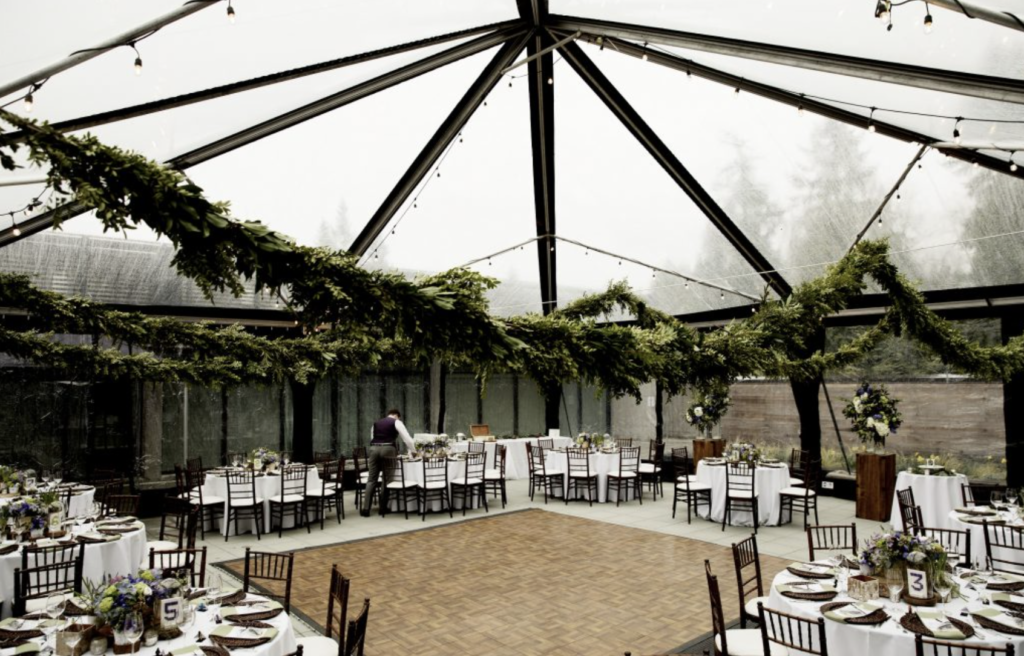 6. Museum of Vancouver
The Museum of Vancouver is a unique and important historical venue. Built for Canada's centennial and opened in 1968, the building is one of Vancouver's architectural gems, making it a one-of-kind venue to host a myriad of special events, receptions and business meetings.
Situated in Vanier Park near Kitsilano Beach, just minutes from downtown, the Museum boasts stellar views of English Bay, Stanley Park, and the North Shore mountains.
There are four main event rental locations to choose from including the Joyce Walley Room, MOV Studio, Lobby, and History Room and Garden Patio
Event Rental Information Package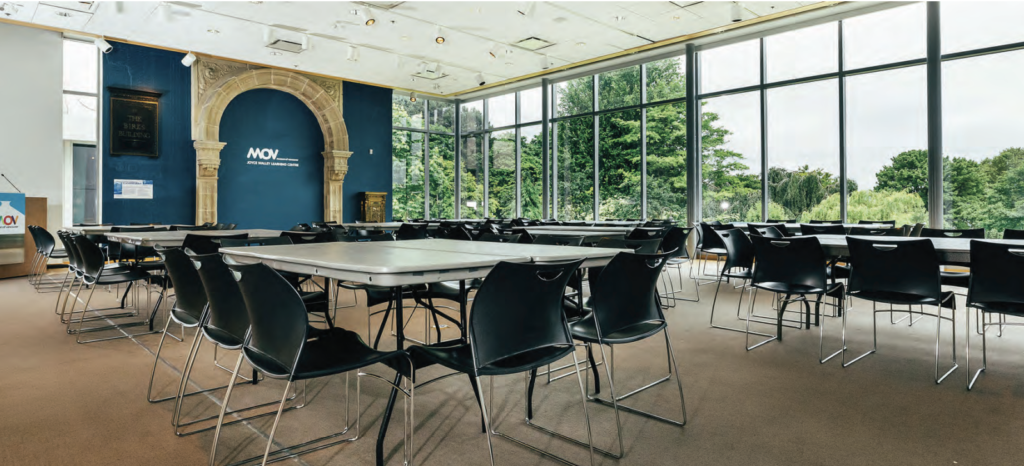 5. Vancouver Maritime Museum
Located essentially next door to the Museum of Vancouver (aka centrally located), the Vancouver Maritime Museum offers something fun and different for the adventurous. In particular, the St. Roch shelter is the iconic A-frame structure that houses the St. Roch ship (and yes, you and your guests can go aboard).
In addition, if you're looking for an intimate location by the water to host a ceremony, the Heritage Harbour at the Vancouver Maritime Museum can be rented for 2 hours for only $500. In addition to this quaint, outdoor venue, the Museum features multiple spaces for rent including the St. Roch Shelter, Teekay Gallery, Lobby, Terrace or even the Entire Museum can be used.
Event Rental Information Package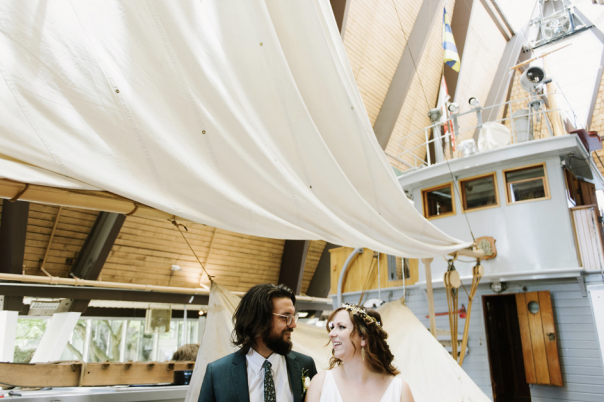 4. Vancouver Art Gallery
The Vancouver Art Gallery is a turn-of-the-century former provincial courthouse building that offers gorgeous meeting spaces for weddings, receptions, cocktail parties, seasonal gatherings and corporate events.
Locations within the gallery include the grand foyer and rotunda, or if you're looking for something more intimate, you can even rent one of two historic courtrooms, complete with judge's stands and rich hardwoods. Don't sleep on checking out the gallery's Rooftop Pavilion. Completely protected from the elements, this space enjoys a spectacular view overlooking Robson Square in a unique setting.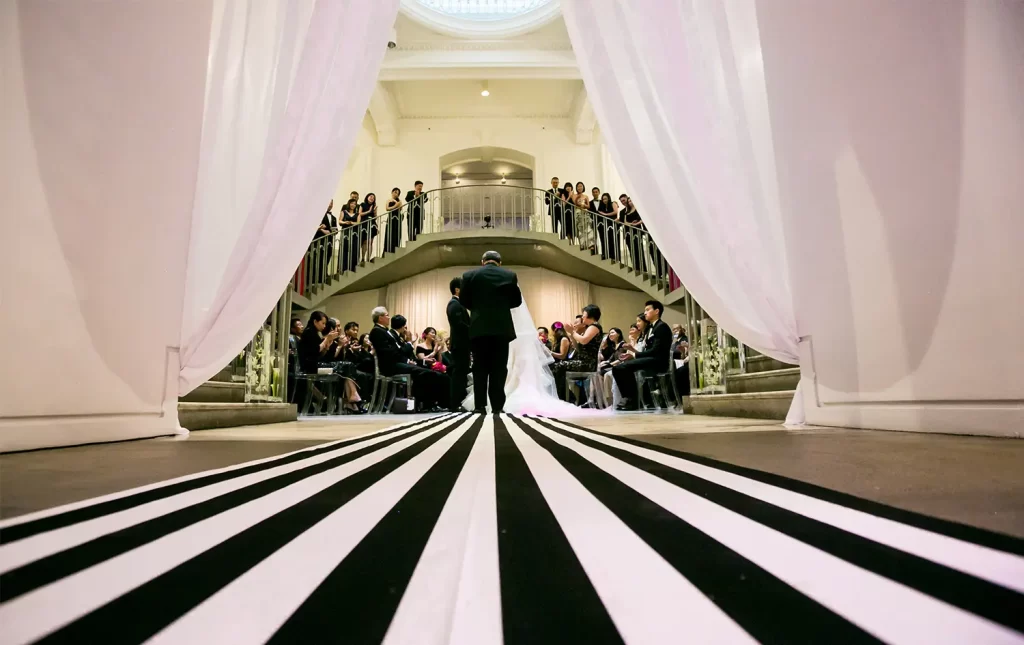 3. MONOVA: The Museum of North Vancouver
Newly opened in 2022, MONOVA, or the Museum of North Vancouver is located in the heart of The Shipyards in North Vancouver (close to the Sea Bus terminal at Lonsdale Quay).
Anchored by Streetcar 153, the Museum lobby is an incredibly unique setting for a private reception —guest can take a streetcar ride through the past as well as touring MONOVA's Permanent and Feature Exhibit Galleries.
Event Rental Information Package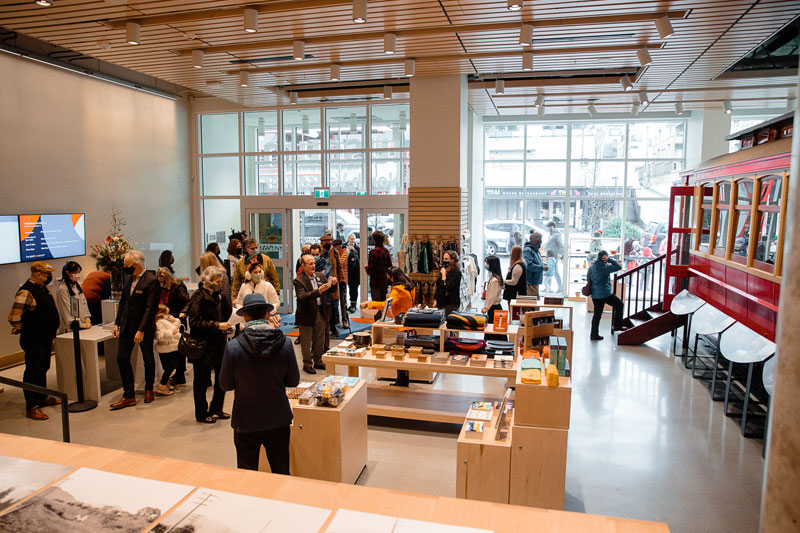 2. Science World
Science World isn't just for kids – the venue boasts a number of interactive and attractive locations for events.
With the ability to accommodate 20 to 1,800 guests, you'll be able to host any type of event. Enjoy a fun evening for employees and clients, or a sit-down formal dinner, buffet, or cocktail reception. In addition
to the dining option, you can enjoy outdoor spaces, hands-on galleries as well as a 200 seat
and a 400 seat theatre. The most stunning location within the space is definitely the Green Roof Terrace and patio which is picture perfect for weddings and other special events.
Event Rental Information Package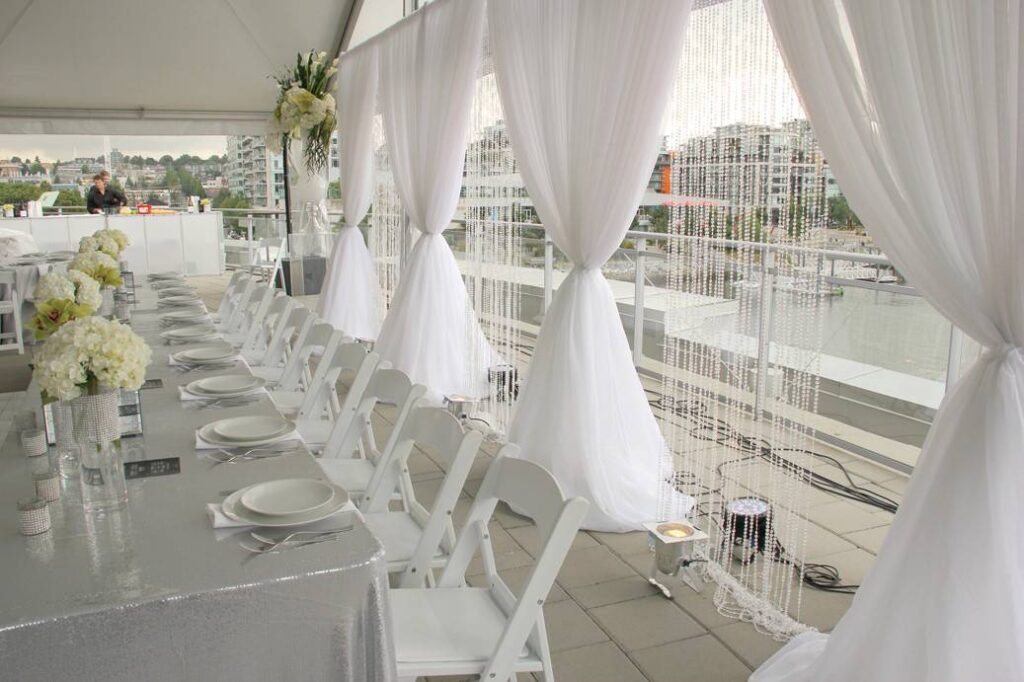 1. The Polygon Gallery
Also located in the Shipyards on Vancouver's North Shore, the Polygon Gallery is a stunning event venue with city skyline views and a clean, contemporary aesthetic. While you are able to rent the main floor or upper floor of the gallery, the Seaspan Pavilion space is the showstopper. Located on the Upper Floor, this space is in the heart of the building and features a fully- retractable glass wall facing south, which opens onto a private, covered balcony. Guests can move easily between inside and outside, enjoying sweeping views of Burrard Inlet and the Vancouver city skyline.
Event Rental Information Package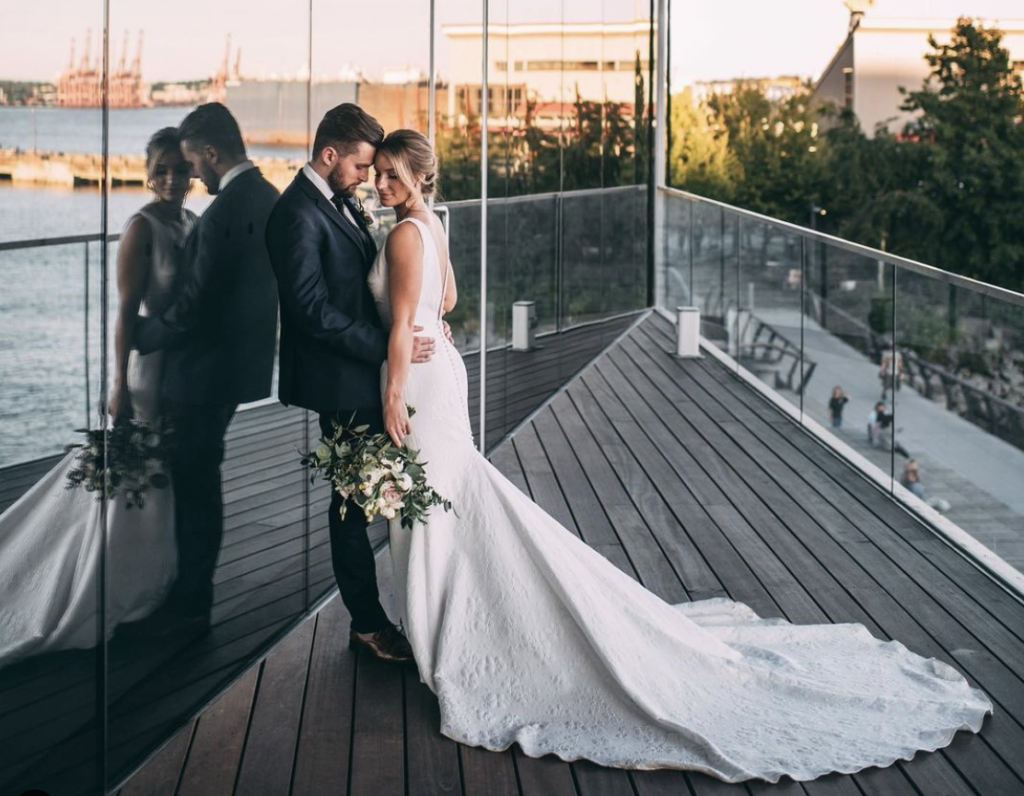 Tell us in the comments below, which museum you'd want to host your event at most!