December is just around the corner and if you haven't put together a plan for your team's holiday party, now is the time to start planning! Here are our top 9 tips for planning a memorable holiday party for your company.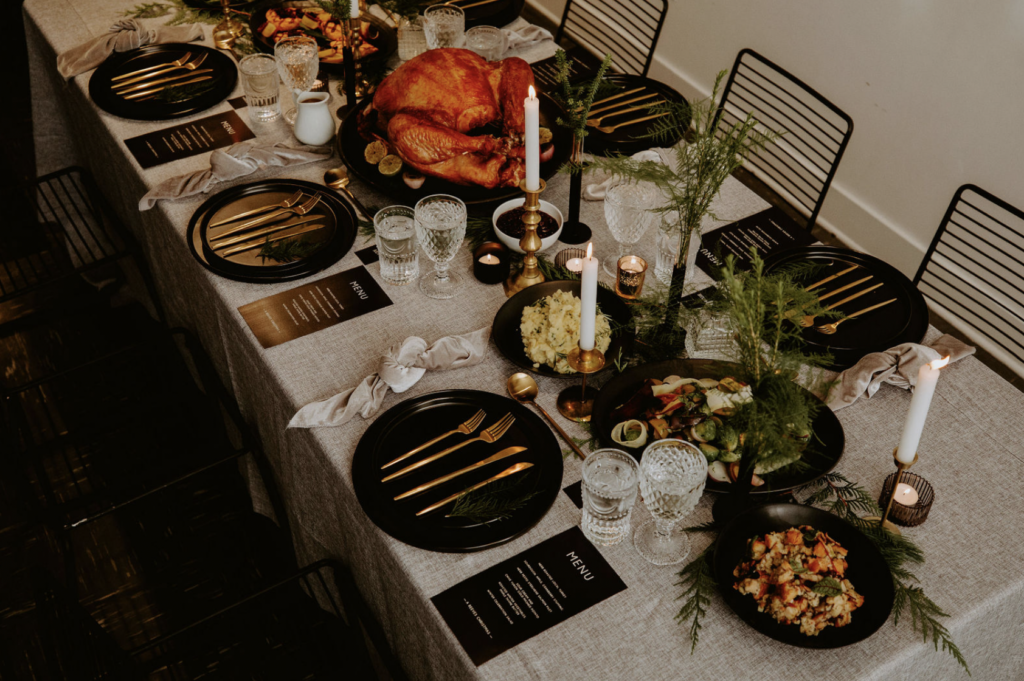 1. Establish Your Budget
If you're planning to have bar services at your holiday party, there are a number of things you need to consider when establishing your budget. The three components you need for a great bar is great staff, appropriate amounts of rentals (i.e. glassware, bar tools, the bar itself, etc.) and of course, the beverages. However, there are a number of nuances with these depending on the types of beverages you want to serve, how long your event is, and for how many people. Fortunately, our team has extensive event management experience and can help put together this estimate for you.
2. Choose a Theme
What are you trying to convey at your party? An easy way to get people into the theme of the evening is to express the theme through cocktails. Whether it's specifying the colour to match the aesthetic of the evening, customizing the serves to match certain favour profiles or garnishing with something unique to your company, we can create a menu that's perfect for you – but remember, that brainstorming and testing new concepts as well as ordering in custom ingredients will take extra time.
3. Book In Advance (aka NOW)!
Allow for at least 3-4 weeks for a full bar experience or 2 weeks for basic bar services. Essentially, if you're wanting to host a holiday party between December 12-23rd, you will need to confirm your booking by next week.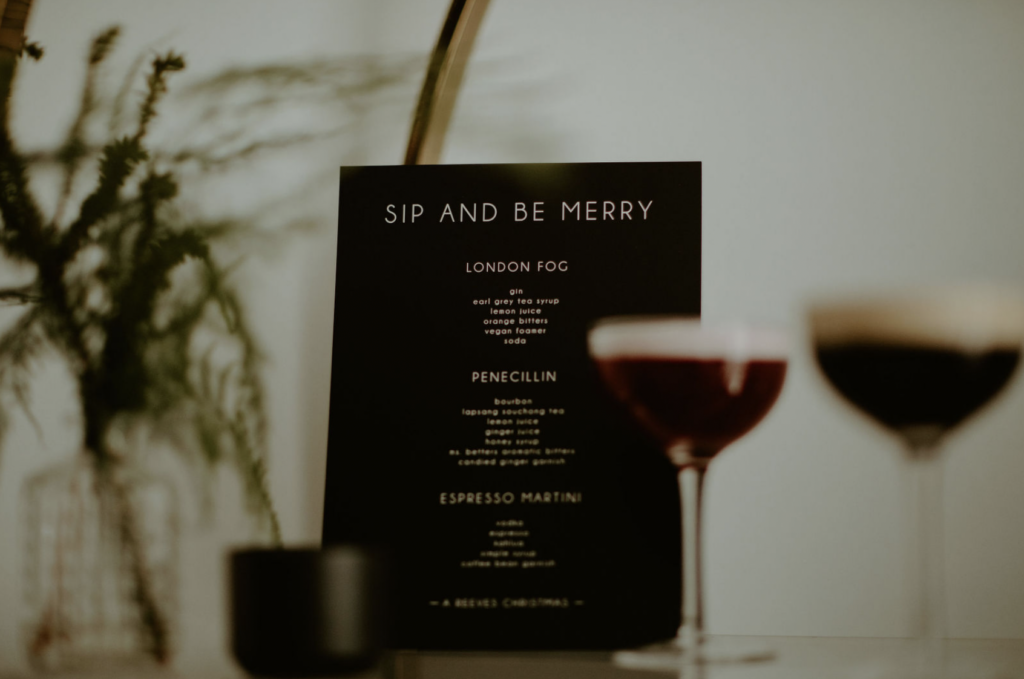 4. Zero Proof Cocktails are a Must!
We always recommend having at least one non-alcoholic cocktail on your bar menu. Not a 'mocktail' but rather, a cocktail that uses a zero-proof spirit and is named and listed just like a cocktail with alcohol in it. This allows the people who are choosing not to drink to feel inclusive (and not stand out), and also allows the bar team to slow down alcohol consumption if they feel someone needs a break during the evening without completely 'cutting them off'.
5. It's Always Worth Getting A Little Extra
Whether it's an extra bartender or busser behind the bar, or ordering more cocktails than you anticipate your group will drink, there's nothing worse than having long line-ups at the bar or possibly running out of drinks before the night is through. The key to an exceptional and memorable party is making sure people are enjoying themselves from start to finish. Having fresh-made cocktails available at a steady (responsible) pace always livens up the party.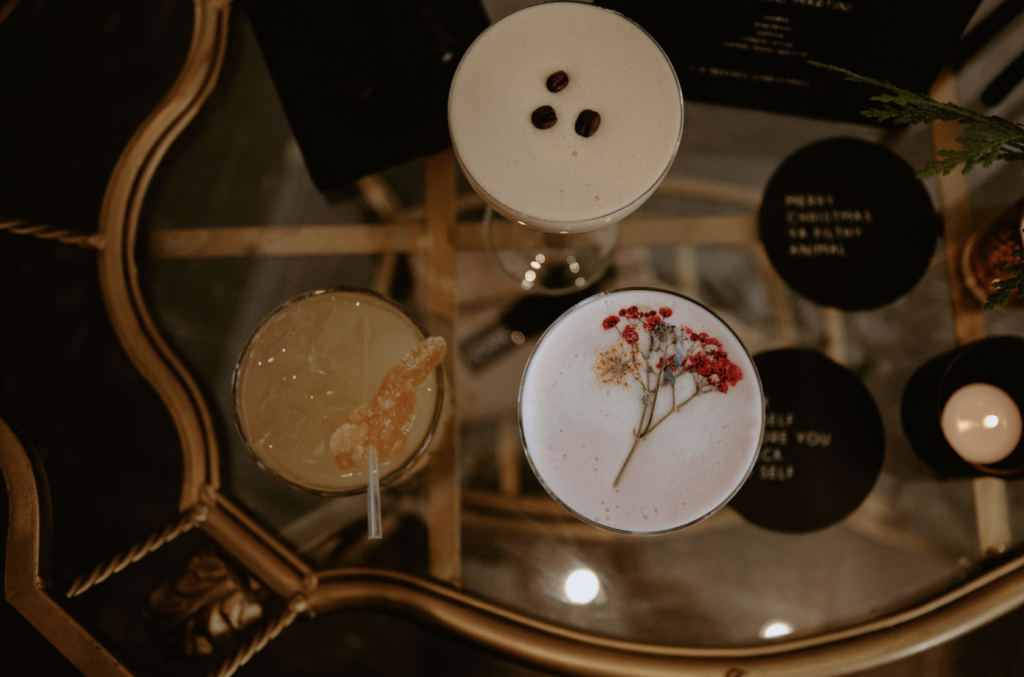 6. Hire A Cleaning Company
If you're hosting a party at your office, hiring a cleaning company to assist with post-event clean-up will make things so much easier for you. Spills happen, glasses break, and leftover decorations and food scraps are bound to be part of the event – having a team to take care of this the next day will be the best present you can give yourself this year. Trust us.

7. Embrace Nature
One essential component of setting up a bar is having the product chilled – after all there's nothing worse than a room temperature cocktail, glass of white wine or beer. The beautiful thing about the winter is you can chill most of your beer/wine outside – embracing the outdoors as your natural cooling source is a great way to keep things cool this season! Just be careful not to store it outside in public areas 😉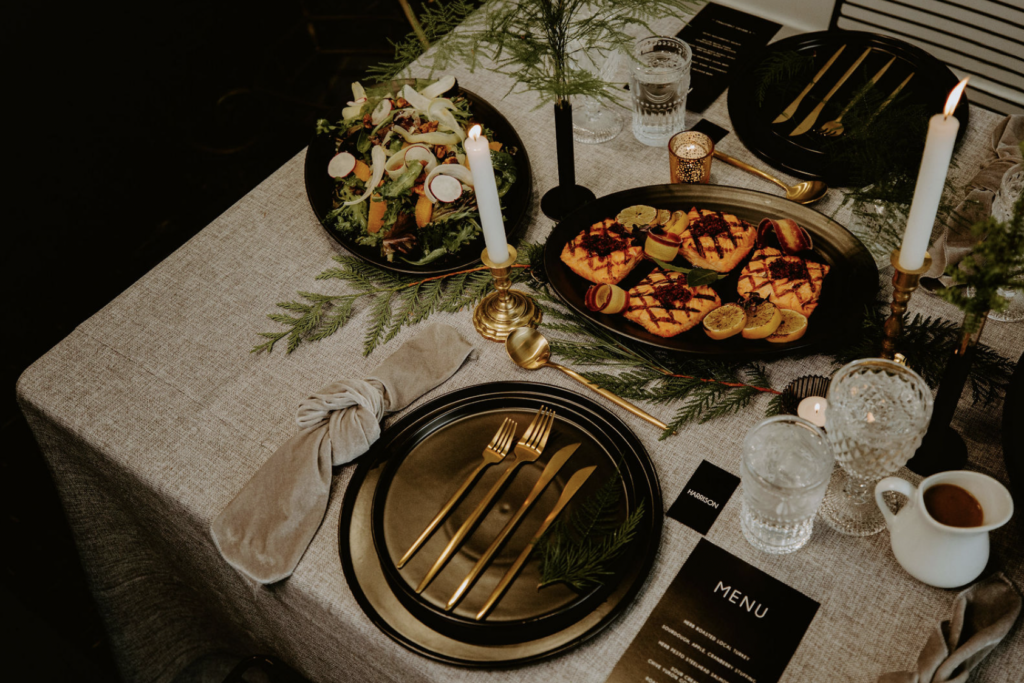 8. Host a Midnight Supper
If you're offering bar services all night long, plan to offer late night snacks or food for your guests. Having food on hand to fill people's stomachs will help alcohol to be absorbed more slowly. We are here to get you into the holiday spirit (pun intended) but drinking responsibly is of the utmost importance. Having late night food available is a great way to encourage that.
9. Have A Plan B
There are limitations on venues, rentals, and the delivery of products to spaces this season. In addition, as we saw last winter, regulations around capacity requirements and lockdowns can turn on a dime. While we're optimistic that spaces will remain open in December 2022, having a Plan B just in case something goes awry is always a good idea. Our sister company, The Bar Cart, is also offering cocktail kits delivered to your door as well as virtual cocktail class experiences this winter which is a perfect backup for in-person event bookings. Or if your team is still remote, it might even be a better Plan A.
---
Photo Credits:

Photography: @sambajoy

Catering: @edgecaters

Floral: @ecorce.flowers

Design: @chrissiedreamgroup

Décor: @bespokedecor

Stationery: @makingmemories.stationery

Cocktails: @lavishliquid

Candy: @karamellercandy

Rentals: @pedersenseventrentals